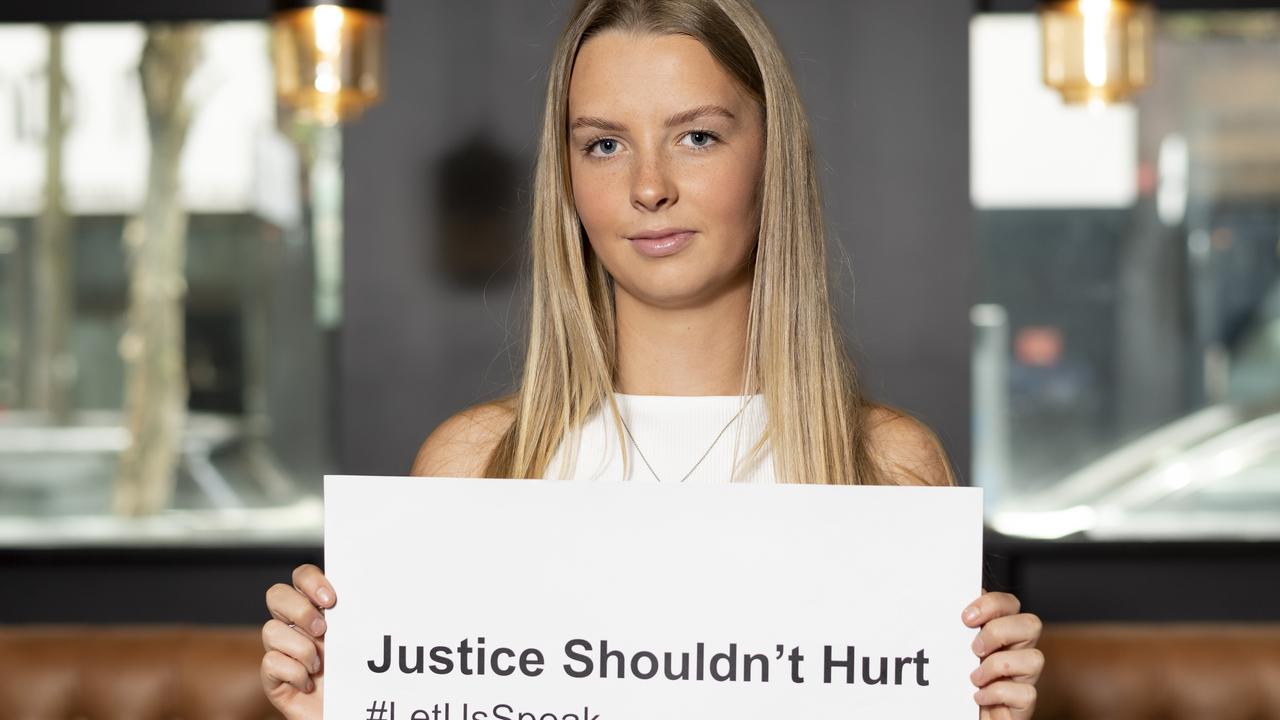 Thousands of Australians have joined the NSW Attorney-General's call to expand a pilot program designed to make the courts less traumatic for children in sex crime cases.
Today, news.com.au exclusively revealed the stories of Rose and Pippa Milthorpe, aged 14 and 17 respectively.
The sisters were just 7 and 11 years old when they went to court to testify at the trial of their attacker. Both claim that the court process has left them more traumatized, despite obtaining a partial conviction. The criminal was convicted of six of the eight counts of assault against Pippa. Those who were against Rose were eventually fired because of her age.
Justice shouldn't hurt, but for the children of Australia, it does. The NSW government knows how to fix this problem, but they haven't. That's why news.com.au is calling for law reform to make it easier for child victims of sexual abuse to come forward as witnesses. We need 20,000 signatures today. Join the movement and sign the petition here.
"This story is incomprehensible," one woman wrote next to the petition to make the Child Sex Crime Evidence Pilot program permanent.
"That these girls have gone through so much and still have to generate a petition so that our parliamentarians and the legal system act."
"It's shameful that we've gotten to the point as a nation where we even need a petition to get this over the line," said another.
"It is absolutely heartbreaking that this legislation needs a petition to change and it has been up to the victims of this broken system to fix it. Thank you Rose and Pippa for your bravery."
"Children deserve to be supported and not traumatized any more. Their story no matter their age matters and should be taken into account. I am impressed with the bravery of Rose and Pippa and their family," commented a third.
Pippa and Rose returned to court and won the right to tell their stories under their real names. They are fighting to get the Child Sex Offenses Test Pilot Program in place, making it easier for children involved in sex offenses to come forward.
To support Milthorpe's journey, news.com.au is launching our exclusive Justice Shouldn't Hurt campaign and we are calling on NSW Attorney-General Mark Speakman to expand the scheme across NSW.
The petition had more than 15,000 signatures within hours of being published, with Australians voicing their support for the Milthorpe family's fight and are shocked that victim support systems are "further violating these once innocent children and their families ".
Another wrote that "children should be heard in a way that doesn't traumatize them."
"Children should not be forced to keep these memories at the forefront of their lives through long waits for evidence. Children should be protected from further trauma during trial."
Others pointed to the "unfairness" of the scheme which is currently only available to survivors who are under the jurisdictions of Newcastle and Downing Center (Sydney) District Courts.
"This is so unfair to abused rural and regional children. Fix it," said one.
We need 20,000 signatures today. Join the movement and sign the petition here.
"Sexually abused children are abused by the perpetrator, the legal system and ultimately rural NSW children are abused by the state government by being deprived of the assistance offered to their city cousins," commented another.
"Believe me, child sexual abuse happens all over NSW! Why are country kids the most victims of your government? Proud of you Pippa and Rose!"
"It should be implemented nationally," wrote a third.
"All children in this space deserve to be heard and treated in a way that does not cause further trauma. Rose and Pippa, you are very brave and I hope this is your legacy."
Another said it was "outrageous" the NSW Government "hasn't acted already".
Telling this story involved applying for an injunction that took several months and cost about $45,000 in legal work which was covered by news.com.au and the LetUsSpeak campaign, which you can donate to here.
Already 15 experts have joined our call to action, including former Federal Children's Commissioner Megan Mitchell AM, Bravehearts founder Hetty Johnston AM, Sexual Rape and Assault Research and Advocacy Director General Dr Rachael Burgin, Full Stop Australia CEO Hayley Foster, current Bravehearts. CEO Alison Geale, as well as Professor Judith Cashmore AO who evaluated the pilot program in 2017.
Over the next few days, we'll be publishing the views of experts, academics, survivor advocates, law enforcement and others, all of whom echo the call to make the program permanent.
Originally published as Thousands of Australians join call to make NSW pilot program permanent